We are taking a break for the summer and will resume our study of Romans on August 9th.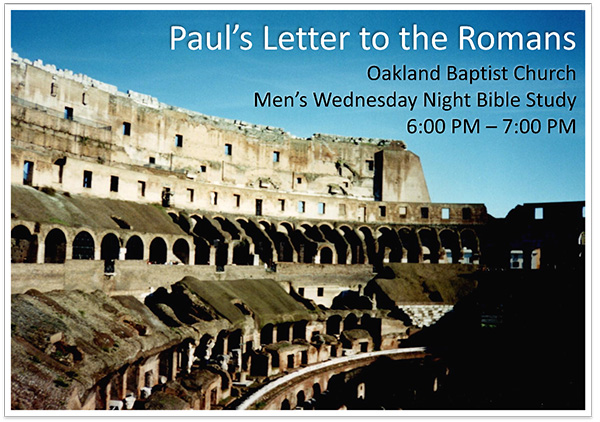 Join us Wednesdays at 6:00 p.m. in the Multi-Purpose Room
The book of Romans is the Apostle Paul's masterpiece, a carefully constructed summary of Christian theology. His letter to the Christians in Rome explains God's plan of salvation by grace, through faith in Jesus Christ. Divinely inspired, Paul passed on truths that are followed by believers to this day.   The epistle is often the first book of the New Testament a new Christian will read. Martin Luther's struggle to understand the book of Romans resulted in the Protestant Reformation, which dramatically impacted the history of the Christian church and all of Western civilization.
The letter to the Romans stands as the clearest and most systematic presentation of Christian doctrine in all the Scriptures. Paul began by discussing that which is most easily observable in the world—the sinfulness of all humanity. All people have been condemned due to our rebellion against God. However, God in His grace offers us justification by faith in His Son, Jesus. When we are justified by God, we receive redemption, or salvation, because Christ's blood covers our sin. But Paul made it clear that the believer's pursuit of God doesn't stop with salvation; it continues as each of us is sanctified—made holy—as we persist in following Him. Paul's treatment of these issues offers a logical and complete presentation of how a person can be saved from the penalty and power of his or her sin.
Join us as we conduct a verse-by-verse study of Paul's explanation of the Gospel of Jesus Christ.