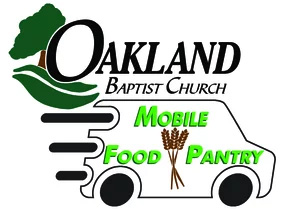 The Mobile Food Pantry delivers every 4th Sunday. If you would like to volunteer, please meet in the Youth Zone at noon for a light lunch prior to departure.
This ministry aims to help fellow county residents at key locations with basic needs for food, toiletries and household items. You can leave donations in the MFP van parked at the Annex, or in the appropriate bins in Room 205 at the church.
Donated Item Suggestions
Donation are always needed and greatly appreciated. Please leave donated items in the red van located in the church parking lot, or you may email the office at office@oaklandbc.com to schedule a drop-off.
FOOD DONATIONS (Nothing Perishable or Outdated)
Off-the-shelf Microwaveable: (soup, mac & cheese, pasta, "Compleats" dinners)
Snacks: (fruit or granola bars, fruit or applesauce cups)
Canned Goods: (green beans, corn, peas, beans of all types, canned pasta, soup, canned tuna and chicken breast)
Juice Boxes: (100% juice preferred)
Pantry Staples: (peanut butter & jelly, 2lb bags of sugar, salt, pepper, cooking oil, cereal, oatmeal, crackers, cookies, Knorr rice & pasta sides, rice)
TOILETRIES & PAPER PRODUCT (Adult & Children)
Shampoo/Conditioner
Toothbrush/Toothpaste
Toilet paper
Feminine products
Financial Donations
Financial donations are welcome. Please visit https://giving.ncsservices.org/app/giving/obcgiving and select 'Outreach' for your fund.
Email the Oakland Baptist Church Office for more information at office@oaklandbc.com